5 Cool Features of Windows Phone, you are sure to like!!!
Windows Phone, the mobile Operating System, which became famous with the Nokia's Lumia series, is now the trending Operating System at the moment. It currently is at the third place in terms of market share, behind Apple's iOS, and Google's Android. We take a look at 5 cool features of Windows Phone, which makes it different from other operating systems, and which anyone would like if they make a switch from Android or iOS.
1)Metro UI
The most striking feature of Windows Phone, for me, is the Metro UI also called as the "Modern UI". The user interface of Windows Phone is refreshing for anyone who are tired of the icon-widget centered interface of Android and iOS. I find the Metro UI very pleasing to the eye. The design language, the font styles etc, make it look something different from the crowd. It instantly gives a feeling that we are using a premium device! Also the App List of Windows Phone is the most organized for me. I can find any app just by 2-3 clicks rather than swiping lots of screens.
2) Live Tiles
Live Tiles is a concept similar to notifications and sliding menu bar found in Android and iOS. Live Tiles are meant to provide real time updates for apps to the user. The live tiles look very good, and they can customized to a extent. Some users like me, find the concept of Live Tiles very good, it looks good, it gives you updates. But some users find that it is inconsistent in giving the required updates, as would be given by a separate notification center. Give it a try, I say.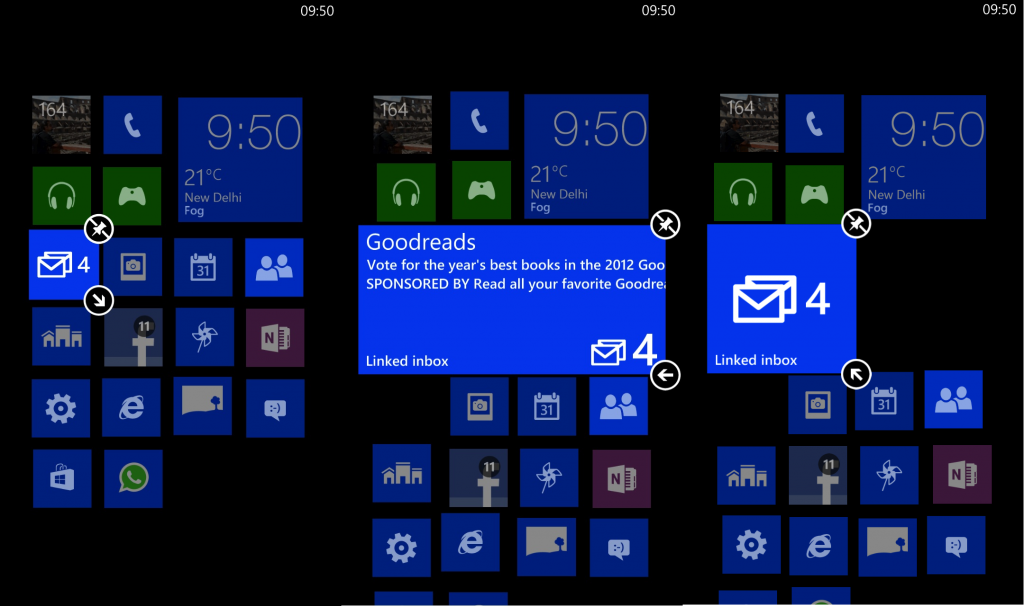 3)People Hub
People Hub, means the directory of contacts. In Windows Phone, People Hub, integrates your contacts from multiple sources, such as your primary SIM card, your Facebook account, your Twitter account etc. So what you get is lots of information at one place. You can see the updates of a person, you can see his personal details (publicly shared), his contact number(s), etc. Its a very cool way of organizing a contact list.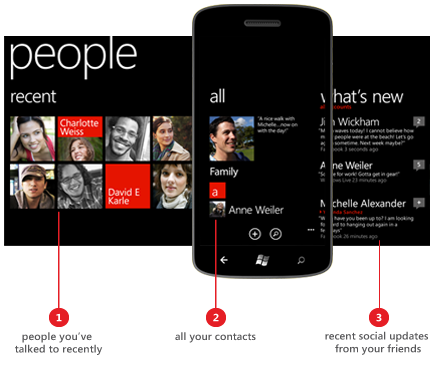 4) Security
Windows Phone 8 has lots of security features. You can remotely lock your phone, in case you lost it somewhere. Just go the Windows Phone website, and you can erase or lock your phone from any computer. This works by sending text messages to your phone. Also it has minimal risks of Malware and virus. The app store of Windows Phone is very strict in terms of these. Also you cant sideload apps which are not certified on the app store, without rooting the phone. Also if you lock your phone with a PIN, then currently there is no hack to unlock the phone without the correct PIN, you can either enter the correct PIN, or factory reset your phone. "Kids Corner", a new feature of Windows Phone 8, allows you to select certain apps from your phone, so that only that apps will be available in the "Kids Corner" mode. So lets say, if your kids want to use your phone, they will be only able to see those apps which you have selected in Kids Corner. This is also useful when some of your friends ask for your phone, and you dont want them to see your personal information.
5) Speed
This is the thing, which made me purchase a Windows Phone for myself. After using lots of other phones, I found that Windows Phones don't lag! I mean they offer superior fluidity, speed of operation, and smooth operation. Even after filling my 16GB SD Card, my phone has not slowed down a bit. Once I completely filled my phone's internal memory. Then also I didn't find any noticeable lag or hangs in any of the apps. Ofcourse this depends on the coding of the apps, some apps do hang, but this doesn't slow down or hang the operating system. If you are tired of processes stopping unexpectedly or force closing on Android, then you should definitely use Windows Phone. Try using it for one day, take it from a friend, use it for a few days, and then you can tell the difference.
Do give your views and comments below in the comment box!